Ideas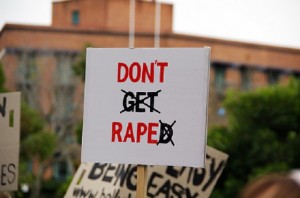 Mainstream media reports and commentary continue to shy away from accurate representations of rape and sexual abuse, falling back instead on euphemistic language that implies consent and encourages victim-blaming.
We still routinely witness gender inequality in our everyday lives, so is it not time for all men to actively challenge the sexism of their peers?

As UK construction firms are due to pay compensation for their unlawful blacklisting of thousands of workers, it appears another neo-McCarthyite blacklisting drive is under way, this time against Muslims, writes Yvonne Ridley.

On October 7, indigenous communities and supporters are taking to the streets across Canada and globally with a day of action to assert their indigenous sovereignty, and participation across the UK is called for as Britain's colonial legacy continues.

The notion of Universal Human Rights has gained significant prominence in Western political and intellectual discourse. However, Tanzil Chowdhury argues. it is a form of cultural imperialism based on the implicit superiority of European modes of thinking.

Today, Talha Ahsan, a British poet with Asperger's, marks his 34th Birthday in solitary confinement at a US Supermax prison, after 7 years of detention without trial. The contrast between the handling of Ahsan's extradition request and Gary McKinnon's highlights an ongoing process of racialisation in the name of the War on Terror that legitimises police violence and contributes to the immunity of political authorities.

Socialist journalist Yvonne Ridley's decision to support the call for Scottish Independence will raise a few eyebrows among her friends from the Left but the arrival of Chancellor George Osborne to Aberdeen this week prompted her to explain here why she will be backing the 'Yes' campaign.

Preceding recent violent events in Turkey and Egypt, a massacre of unarmed protesters in Dhaka, Bangladesh went more or less unreported in the international and local press. An exclusive report explores the significance of the massacre at a broader level, notably its colonial historical context.

In the wake of the global financial crisis, many within the economics community are calling for a fundamental re-examination of their methods. But what does it mean to be a radical thinker in economics?

Recent protests in Turkey could help bridge the country's longstanding religious-secular divide – if both sides are willing to engage with each other.