Blogs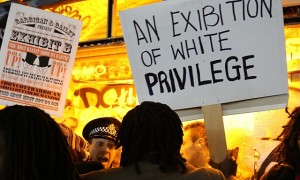 When the Barbican cancelled its 'Exhibit B' show two weeks ago, after a campaign by anti-racism campaigners, many within the liberal media cried censorship. Yet there was virtual silence when a Grime showcase event was cancelled at the same venue earlier this year. Such markedly different reactions highlight the power relations underpinning our cultural institutions, argues joel sharples.
Current debates over whether the world is experiencing a revolutionary wave assume a past history of such waves yet rarely examine in any depth the historical record. In their first essay of a three-part series on the subject, Laurence Cox and Alf Gunvald Nilsen look at revolutionary waves in history.

When Akkas Al-Ali's Israeli friend accused him of "siding with terrorists" in Gaza, he decided to write the following letter in response.

Israel claims its latest onslaught against the population of Gaza is a response to Hamas rocket-fire, targeted at "terrorists" and motivated to "restore quiet." However, an analysis of the IDF's public relations points and war doctrines as well as the historical context of the events, shows the root cause of the crisis to be Israel's decades-long programme of violent settler colonialism.

Amrit Wilson reports on the extraordinary case of Sanaz Raji, a tale of persecution and injustice that has highlighted the deep-set and dark prejudices at the heart of British higher education.

More than a decade on since the February 15 2003 protests, it is time to acknowledge that the UK government's refusal to heed the calls of the anti-war movement might have been directly responsible for fuelling violent extremism in the UK, Ian Sinclair argues.

The 'Live Below The Line' campaign, ostensibly aimed at highlighting the plight of the poor, seems to have turned into yet another conduit for putting people who are already privileged in the limelight, argues Maya Oppenheim.

This weekend, the Bahraini King is attending the Royal Windsor Horse Show while Prince Andrew is due to open a Bahraini-sponsored exhibition. This is the latest episode in Britain's ongoing betrayal of the Bahraini people, argues Alastair Sloan.

Following a recent student-organised conference at Oxford University, Amber Murrey reports on the event and situates its discussions within the global longue durée of capitalism's rise.

Richard Seymour, author of the recently released 'Against Austerity', examines the ideological and political mechanisms through which a politics of austerity can gain the consent not just of the elites but of the majority of the public.