Theatre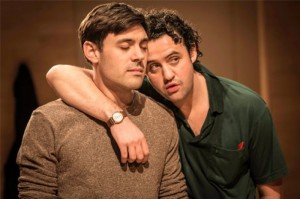 The Royal Court's new play 'Hero' is billed as an intricate and provocative take on modern attitudes to sexuality. Samuel A. crown, who didn't agree, explains why he left during the interval.
Next week sees the UK premiere of Unto the Breach, an adaptation of Shakespeare's Henry V by Al Zayotuna, Europe's most renowned Palestinian theatre and dance company. Ahmed Masoud and Souraya Ali explore the parallels and paradoxes behind the production.

Sheyma Buali reviews the world premiere of a boisterous Tunisian take on Shakespeare's tale of the corruption of power, where the eponymous tyrant and his wife are reincarnated as Leïla and Zine Ben Ali.

Part of the 'Globe to Globe' programme of 37 plays in 37 languages, the SSTC's Cymbeline is heavy with historical and political parallels. Ceasefire's Derek Oakley is impressed.

A Soviet-nostalgia revival seems to be under way, with John Hodge's new play 'The Collaborators' and the Royal Academy's new exhibition on Soviet Art and Architecture. Musab Younis, Ceasefire's deputy editor, reviews.

Malte Ringer finds Nottingham Playhouse's recent production of Brecht's The Resistible Rise of Arturo Ui both impressive and timely.

Watching Royal Court young writer Catherine O'Shea's new play, Adam Elliott-Cooper is confronted with the most unsettling aspects of how the British state polices its borders.

This Saturday 5th March, will see the première of a new production of 'Between the fleeting words", a play that revisits the Palestinian national tragedy through the prism of Mahmoud Darwish's poetry. In an exclusive piece, the director, Ahmed Masoud, explains the importance of art as a form of resistance.

Theatre - Sunday, September 12, 2010 6:06 - 0 Comments

Bruce Norris's new play, currently showing at the Royal Court theatre in London, examines the intersection between race and property by focusing on one Chicago house over a 50-year period. It's an intriguing set-up, but does it work? Musab Younis, Ceasefire's Deputy Editor, went to find out.

In this week's theatre, Gareth King reviews 'Earthquakes in London' at the National, and 'The Prince of Homburg' at the Donmar. The two productions might be equal in their ambitions but only one clearly delivers on its promise.